---
It all started in the Caribbean Sea with a vacation gone awry. Upon leaving his valuables on the beach unattended, Don Halpern became the latest unfortunate victim of daylight robbery. Having been stripped of nearly all his worldly possessions, Don began his search for a theft proof bag. After fruitlessly scouring the internet for a quality solution, Don happened upon a novel and innovative idea - a lockable backpack that would be both stylish and technically outstanding. And thus the LOCTOTE® was born.
---
Our first LOCTOTE® was launched on Kickstarter in 2016. We became, at that time, the highest grossing backpack ever in the history of Kickstarter. From there, we were invited onto ABC's hit series, Shark Tank, where we made a sweet deal with Robert Herjavec. Through it all, we have never strayed from our core focus of providing a means for the everyday adventurer to live more and worry less.
---
Built for active lives, LOCTOTE® pushes the boundaries of technical durability, modern innovation and timeless design. We engineer the world's toughest bags that are designed to protect the belongings you can't afford to lose. Even when you leave them unattended.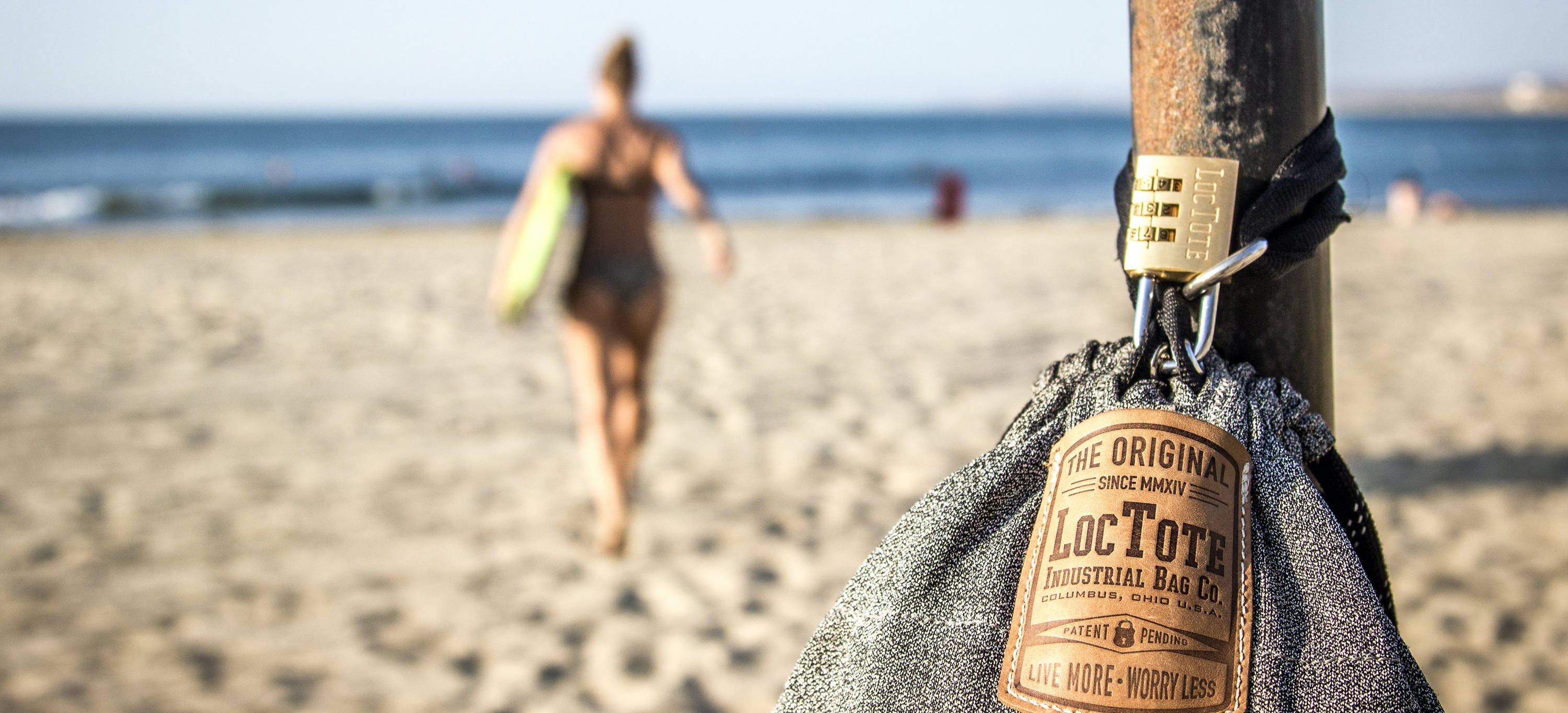 It all started on a tropical island in the Caribbean sea with a vacation gone awry. Having decided to separate from his family in order to stay out snorkelling, Don Halpern carefully covered his phone, cash and other essentials with a towel before heading out into the water. After swimming out for about 100 yards, Don caught sight of someone rifling through his belongings on the beach before walking away with something in his hand. Despite trying to get the attention of his fellow beach-goers and the fastest 100-yard swim of his life, by the time Don reached land, it was too late. Both the individual and his valuables were gone. It was at this moment that it struck Don that he needed a solution to prevent this type of situation from ever happening again.
To Don, the problem posed was a complex one. He didn't just simply need a solution to prevent his personal items from being stolen while at the beach. He needed a carry solution that would enable him to fasten his belongings to a stationary object so that they couldn't be tampered with or stolen. He realized that this would require a locking mechanism that couldn't be broken, cut, or torn, and a container that was made of something that was resistant to cutting or tearing. To make matters more complex, he wanted to find something that was not only anti-theft, but that could also protect his credit cards and passports from digital pickpocketing.
Don also wanted a carry solution that would look timeless - something that would fit seamlessly into his everyday life and something that he would enjoy using.
What he needed was an everyday "go to" bag that would meet all his technical requirements while remaining malleable, comfortable, attractive and durable — and one that his wife would want to carry too. That shouldn't be hard to find, he thought. Well, it turned out it was. In fact there was no product on the market that was even remotely close to what Don was looking for. After exhausting his search, Don began the process of building the bag that was in his mind's eye. After hundreds of hours of research and countless prototypes, he landed upon a winning solution - the original Flak Sack design.
"We are just hands-on, hardworking folks creating hand-crafted, hard-wearing goods. It's really quite simple."
At LOCTOTE®, we tip our hats to the old-fashioned way of doing things. It is through a steadfast dedication to quality craftsmanship and the pursuit of innovation that we continue to improve people's lives through our products. We scour the globe to find the toughest materials available that will help to protect the belongings you can't afford to lose. We compromise on nothing when it comes to quality and authenticity, and we cut no corners in crafting goods that are built to outlive their owners. We want them to accompany you on all your journeys, both at home and further afield.